Hi Dear, today we are going to introduce you our waist beads.
Speaking for waist beads this is a traditional product, which have been worn for varying reasons by royalty for body adornment, deification and decoration. And very interesting thing is some beads are adorned with bells, which is a signal to let the man know that the woman wants to engage in sexual intercourse.
Today there are more and more people wear waist beads.
Why waist beads is so popular. Lol, I just want to say I do not care! Waist beads are so beautiful to wear and some use it for waist training. That is enough.
For waist training, waist beads are being used more and more in North America as a way to control weight gain and shrink your waist. Naturally, as the beads get tighter, you know you're gaining a few pounds. So you can nip that weight gain in the bud before you're struggling to button your jeans.
Okay what are the designs we have.
1>Elastic cord design.
Elastic cord waist beads is pretty simple. Thread the beads by elastic cord and wear it to your belly will be fine. Elastic cord is stretchy so even big size body can wear it easily. For thin body if it is large for your belly cut the cord reduce some beads and close it again will okay to use then.
Here you one of our best seller sample
2pcs a set, 23 colors, 32 inches long.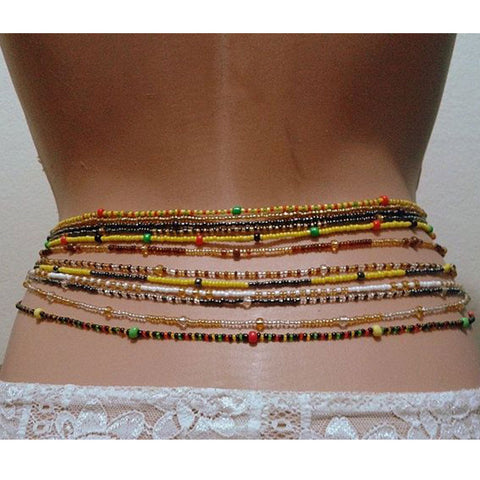 https://www.quakeecommerce.com/products/wholesale-women-cheap-african-sexy-glass-seed-waist-beads-belly-chain-weight-loss-body-jewelry-elastic-cord-80cm-2pcs-a-pack
2>tie on design
Tie on design is thread beads by cotton cord. No elasticity people directly tied to their belly. This is more for plus size bodies. The beads length we have with stock is 50 inches. Want longer size also can custom with us. And more better thing is we offer clasp for it. If people want take it off easier can have a clasp added.
And below is one of our best seller for tie on design.
50 inches long, 30 colors with stock, cotton cord, clasp is offered.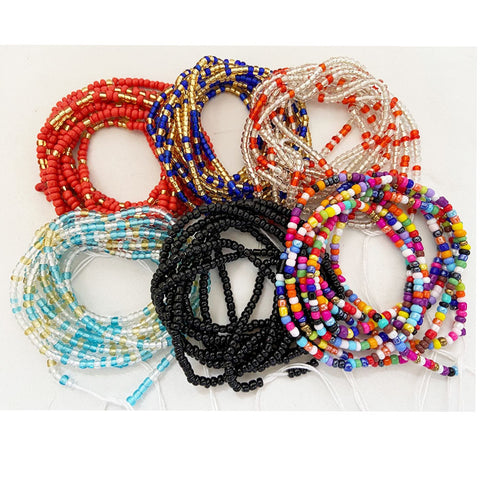 https://www.quakeecommerce.com/products/adjustable-ladies-sexy-loss-weight-plus-size-african-ghana-cotton-string-tie-on-body-belly-chain-waist-beads-jewelry-for-party
3>clasp design
Clasp design can take off easily. The clasp can be lobster clasp, screw clasp etc. Usually there will be a extention chain. Cord can be elastic cord or other.
While this design cost is higher than elastic cord cause the claps need to add and it is usually shorter than tie on design consider of both cost and body sizes reasons.
Below is one of our clasp design
Lobster clasp, 80cm beads size plus 10cm extention chain, fish line.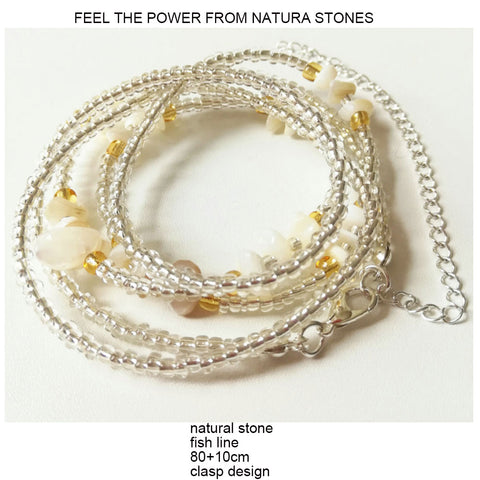 https://www.quakeecommerce.com/products/weight-loss-african-natural-stone-spiritual-crystal-vintage-waist-beads-with-clasp-closure-belly-chain-body-bulk-jewelry-women
These 3 are the main types of us.
If you want a low cost design suggest elastic cord.
If you want a flexible design suggest tie on design which cost is not high and almost can use for any bodies which waist size within 50 inches.
If you want to keep elegant for wear on and take off and your body is thin which within 32 inches we suggest clasp design.
We look forward to meet you.
If you want to have a B2B supplier for waist beads we can be the one.
Welcome contact us for more details.