The answer is no. For fashion jewelry how long the color can last that depend on different situations.
Is there any jewelry the color can keep new forever, yes there are. Fine gold, diamond these luxury jewelry the colors can last for very long time, even you wear them when taking showers and sleeping. Also some natural materials jewelry works the same. Like gem-stone, real pearl, stainless steel high polish finish.
But besides luxury materials and natural materials there are a lot of artificial materials being used on fashion jewelry too. The colors we seem a lot like red, yellow, green, purple, gold, silver etc. there are two main technologies to have colors for these artificial materials.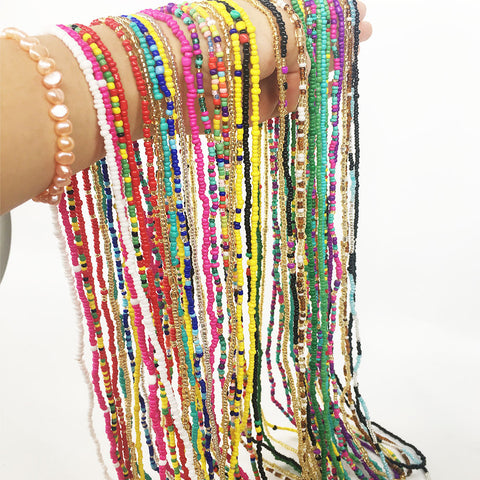 First enamel colors.
Red, yellow, white, black, purple a lot of colors are enameled on.
Take our waist beads for example all these colors are enameled on.
https://www.quakeecommerce.com/products/wholesale-women-cheap-african-sexy-glass-seed-waist-beads-belly-chain-weight-loss-body-jewelry-elastic-cord-80cm-2pcs-a-pack?_pos=15&_sid=8da784615&_ss=r
while white, black, red, green, yellow and blue you do not need to worry the color fade soon cause the beads themselves are these colors from inside to outside so colors won't fade. But all the others colors the color is enamel on the surface as you rubbing your jewelry colors will fade during your wearing time.
The second very common technology is plating.
Like our zodiac sign necklace, stainless steel with 18k gold plated. Customers speak highly of this item.
https://www.quakeecommerce.com/blogs/%E6%96%B0%E9%97%BB/zodiac-sign-necklace?_pos=1&_sid=ed5fef4fd&_ss=r
Plating there are two kinds of plating. One is plated by chemical gold, chemical gold is not real gold it is produced by human. This kind of plating usually you can wear about 1-6 months at most. The second is real gold plating this is done with pvd plating, the adhesive force is better than chemical gold also the plating layer quality is better than chemical gold too, with real gold plated on jewelry the color can keep new 1 year at least. And with proper using and keep it can use for a very long time.
No matter enamel colors or plating colors, proper using and keeping always helps a lot to longer the life of the jewelry. Please take if off when you take showers and sleep also do not touch with any other liquid too. When you do not wear them keep them in a closed space (like a closed bag or box) will slow the oxidization a lot.
These will all help you make your jewelry service you a longer time.
Our website is www.quakeecommerce.com
We are fashion jewelry B2B one stop supplier, we warmly welcome you.